Well guys, a new
Yu-Gi-Oh!
game for
Nintendo DS
will come out soon...
Yu-Gi-Oh! 5D's Stardust Accelerator World Championship 2009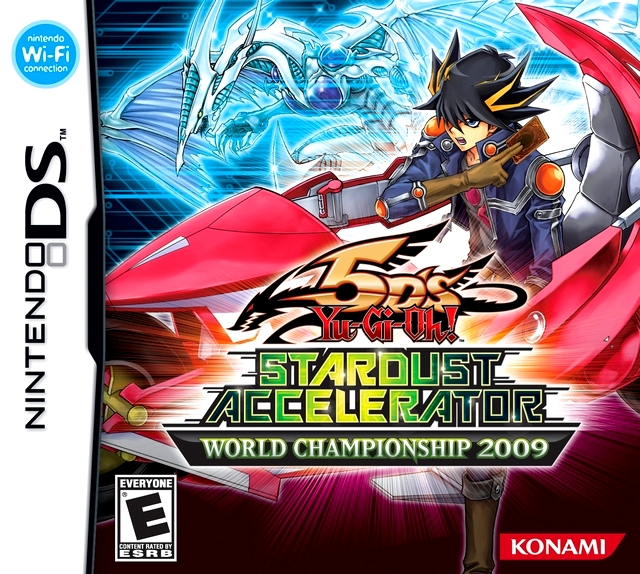 Game will be released in Japan until the end of March, but in US not until May
The game contains a story mode, where the player may duel, browse a 3D map, interact with other characters and collect items and cards (there are about 2800 cards in this game). The player takes the role of a
Signer
and receives their own
Duel Runner
, which they can customize throughout the story mode
Watch this video, cause game looks GREAT:
New awesome video:
Ok, guys it's finally released!!! Here is the DOWNLOAD link:
http://filefactory.com/file/af67b70/n/3563_Yu-Gi-Oh_5Ds_Stardust_Accelerator_-_World_Championship_2009_JPN_NDS-iND_zip
I have to disappoint you... you can't use
NO$GBA
emulator to run this game.
I'm using
ideas1029
emulator but it goes really slow (...I'll try to find better one)
These are some of mine ScreenShots:
Guys, I have a great news!!!
There is a way to play Stardust Accelerator WC 2009 on NO$GBA emulator
- This is what you need to do:
1. Go to options
2. Go to emulation setup
3. Go to NDS cartridge backup media
4. Select EEPROM 64K bytes
5. Save Options by going to options
6. Reset
...and it works well

Yu-Gi-Oh! 5D's Stardust Accelerator World Championship 2009 - Cheats!
- To Unlock all cards:
[Press SELECT to activate]:
94000130 FFFB0000
D5000000 00009999
C0000000 000002DD
D7000000 02120F02
D2000000 00000000
- All Free Duel Modes Enabled:
22122188 000000FF
- All Free CPU Opponents:
0212243C FFFFFFF0
02122440 FFFFFFFF
02122444 FFFFFFFF
02122448 FFFFFFFF
0212244C FFFFFFFF
02122450 FFFFFFFF
02122454 FFFFFFFF
12122458 0000FFFF
2212245A 0000003F
- All Free Tag Duel Opponents:
0212245C FFFFFFFF
- All Costumes:
12120520 0000FFFF
- All Duel Disks:
12120524 000003FF
- Max DP:
021204D8 3B9AC9FF
- Remove Card Restriction:
12011C52 0000EA00